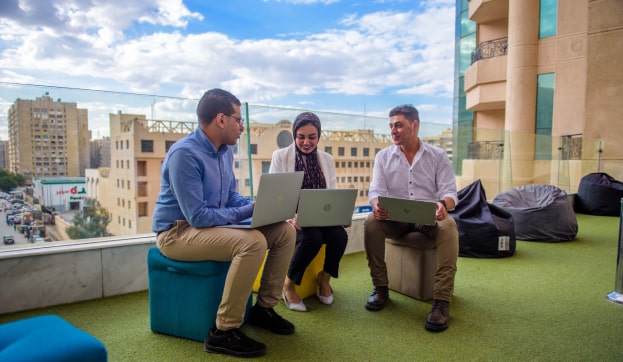 Posted on
December 16, 2021
Software development is expensive. Every single detail in software projects requires great attention and years of expertise. Let alone, hiring and training new developers to work on the project which is a tedious task on its own. The need to hire a software development consulting partner has become crucial for many businesses big and small. But, what actually is this service? A lot of companies confuse software consulting with software development. In this article, we will uncover the difference between those services and help you decide whether the benefits of if are something you need to invest in.
Table of content:
What is software development consulting?
What is the difference between software consulting and software development?
The benefits of partnering with a software consulting & development company
How to choose a software consulting & development partner?
How much does it cost to hire a software consulting company?
An example of the process workflow.
The true definition of software development consulting
To provide software consulting services the company must possess years of experience in building and customizing software solutions. The primary role of a software development consultant is to help you build digital products that meet the demands of the market to achieve your business's long-term and short-term goals.
Software consulting vs. software development company. What is the difference?

The difference is simple. A software consultant provides the strategic roadmap and guides you towards achieving your vision. They have technical and business consultants who are often hired for a certain period of time to give you advice on the design, strategy, implementation, and overall cycle of your software development.
While a software development company helps you develop the actual product. They assign developers, UI & UX designers, and product managers to design and write the codes of your project. Some companies can offer both services which I think is an advantage as you will outsource the project from A to Z to the same firm. They will become responsible for all aspects from creating a strategy to developing and delivering the product to the market.
The benefits of partnering with a software consulting & development company

There are lots of benefits for having the same firm providing consultancy and development. At SDEX, we have helped many companies in the past years through consulting and developing their projects from A to Z. apart from saving time and cost, there are other significant benefits such as:

Implement the right technology stack
Companies that are planning to implement a new technology stack will benefit from getting development and consulting services. The software partner that you intend to hire should be familiar with implementing those technologies and will help you hire the right calibers for the newly implemented technologies.
Hiring a software development & consulting company will probably cost you more than hiring individual developers. The development & consulting companies usually have cost-effective bundles that you can choose from.

Want to build loyalty and trust among your customers? The rule is: give them quality products. The software development partner makes sure the quality of your project isn't compromised so that your customers get the highest quality in the market. They will perform multiple assessments to ensure the security and quality of the product before launching it to the market.
Save time to focus on your business
If you're a CEO, an operational or financial manager, you're probably bombarded with a lot of tasks every day. Partnering with a software development company will save you the burden of strategy, planning, and recruiting candidates. At the end of the day, it's a win-win situation for you as you will invest more time in growing your business and get quality software development.
How to choose a software consulting & development partner?

Choosing the right outsourcing partner is a crucial step in your software development journey. Apart from the costs and experience, there are a few things you need to know before evaluating the service provider.

Do your research before deciding to partner with a software company. Check their familiarity with various technology stacks and tools. Take a look at their published projects and applications that are similar to your niche. If you're building a complex project you will probably need multiple technologies and frameworks. The software partner will help you choose a technology depending on your timeline and requirements.
Non-technical recruiters will spend double the time to understand your requirements and will find obstacles in filtering the right match for you. Technical recruiters, on the other hand, speak the same language as yours as they have been in the tech industry for a long time. At SDEX, our specialized tech recruiters are trained to recruit for any technical vacancy, especially the hard-to-fill skill sets. We have tried both recruiters internally and found that with specialized tech recruiters, the time to fill could be cut to half.
Look for a software house that you can communicate with. You will be surprised by the number of IT projects that fail due to miscommunication between the two parties.

There are important questions that you should ask about their communication strategy.

Do you have a communication plan for every step of the development process?
What reporting tools/applications do you use to track the project's progress?
How do you handle conflict/misunderstandings in the team?
Future and on-going support
Your partnership with the software provider is often long-term as it continues even after delivering your product. Ask the potential software house if they provide an after-sale or ongoing support that includes maintenance and fixing bugs. You will need to make sure that your product is live and running properly all the time without any defects or technical errors.
Last but not least, take your time before signing the contract with any software provider. If you are skeptical or have doubts, insist to have a non-committal meeting with the company to fully understand their process and workflow. Ask all your questions to ensure they are capable of delivering the software solution that meets your expectations.
The workflow of consulting and developing a software project

When you partner with a software development consultant, you can expect the process to be as the following:
Initial discovery meeting to understand the ins and outs of your project and understand your business.
Consultants will hold meetings with you to understand the background of your business and project requirements. You should expect several meetings to develop product specifications and features. You're encouraged here to share your vision and communicate everything you'd like to see as an outcome. This will enable the software partners to get a clear picture of the important aspects of your business.

2. A follow-up meeting/s where the consultant pitch a strategy and an implementation plan to help your company achieve the desired goals.
By now, the consultants should have gathered your requirements and will get back to you with a roadmap and an implementation strategy to follow.
3. Time and cost estimation
A detailed breakdown of cost and timeline estimation will be sent to you at this stage. The consultants have divided the project into milestones and set an anticipated delivery timeline for each. It's important to make sure that the cost offered by the company is fixed and there won't be any hidden or unexpected costs coming along the way.
4.Team assembly and assigning roles to the development team
A software development & consulting company will be responsible to assemble the team that will work on your project. They become in charge of recruiting and selecting the candidates. Some companies like SDEX have a pre-vetted database of developers, designers, and software engineers so the time spent on team assembly is significantly shorter.

5. Product design
Designers start working on your application/website designs and make the wireframes. These designs will then go to a review process and upon approval, developers shall start transferring them into actual code.
6.Product development
Developers start writing code, developing features, and making sure the website/app function as it should.

7. Testing & delivery
The product goes through multiple rounds of testing before the launch. If everything goes smoothly, the product is launched to the market on time.
How SDEX can help you?
SDEX consultants have years of experience in the IT industry. They can help you with strategic advice and an implementation plan to achieve your goals. Software development is also a core part of what we do as we take over your project from start to finish. You don't have to worry about finding developers for your project as we assemble a specialized team for you and provide you with ongoing support after your product is delivered. You can book a non-committal meeting with us if you'd like to know more about starting your development project soon.